Phil explains things: Sports Cars
You may have seen my post from yesterday about the difference between an exotic car and a Super Car. But I didn't go very in depth on what makes a supercar a supercar. But before I can explain that, I need to explain Sports Cars. Most people use the terms "Supercar", Exotic Car", "Sports Car", "Luxury Car" and even "Race Car" interchangeably. But, and I need to put this warning here, this is my opinion as to what makes a sports car.

First, a Sports car differs from a normal car in that a Sports car usually has reworked suspension, a stiffened chassis, tuned exhaust, a higher power output and enhanced bodywork. I'll use the Subaru Impreza as an example. The normal Impreza is a basic car. In current (2017) trim levels, you get a 2.0L Normally-aspirated Horizontally-Opposing 4-cylinder (Boxer) engine, All-Wheel Drive, and your choice of either a 5-speed manual or their CVT transmission, it's not in any way a Sports car. Even in "Sport" trim. (photo credit)
When you step up to the WRX model, which starts as an Impreza, you get more power, better brakes, cosmetic enhancements and more overall performance-oriented add-ons. This, however, still doesn't get you into the full-on Sports-Car bracket. It does, however, break out of the "Compact / Small Family Car" Segment and into the "Sports Compact" segment. (Photo Credit)
Jumping up to the WRX STi level, you get a more potent 2.5L EJ-series engine (A carryover from previous models), a 6-speed manual transmission, bigger brakes, an electronic differential and other bits-and-bobs that make the STi a low-end Sports car that sits right on the edge of Sports car and Sports Compact. (photo credit)
Other vehicles that have this sort of segment-changing is the Ford Focus. The Focus has trim levels in the Electric Car category, the Hybrid category, as well as Sports Compact and sports cars. The Honda Civic covers 3 segments: Small Family Car, Compact Hybrid, Sports Compact. And look at what Audi has done with the A4. The standard A4 is in the midsize family car segment. Bump it up to the S4, and you get a Low-end Sports Sedan. Go even higher with the RS4 and you get a full-on Sports Car. And the Avant, Convertible and All-road versions give it more variety.
There are other sports cars that are not based on the underpinnings of any other car from the brand.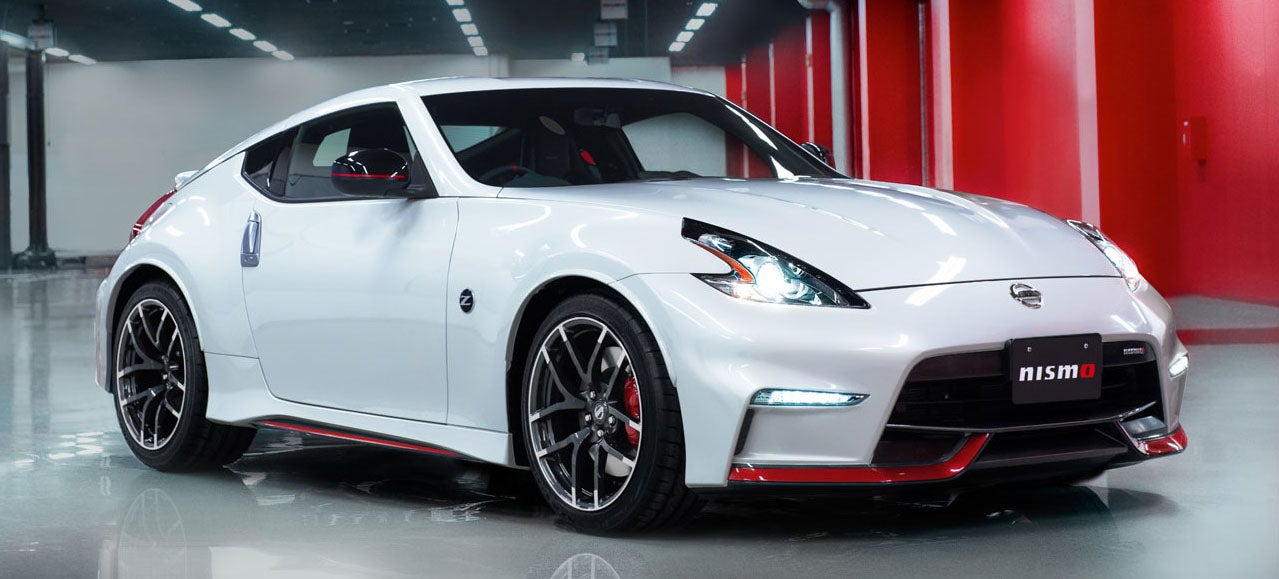 The Nissan Z-series cars, which have been around since the 1960's, have long been an iconic Japanese line of Sports Car. (photo credit)
The Nissan Skyline GT-R is another legendary sports car out of Japan. It's performance numbers aren't quite up to the level of other Sports Cars, but there's enough aftermarket support for this, like most Japanese sports cars, that, if you have the money to spend, you can turn this into a beast of a supercar. I'd also be remiss if I didn't mention the Toyota Supra, MR2, Celica and Corolla, as well as Mitsubishi's Lancer Evolution, the Mazda MX-5 and RX cars, the Honda S2000 and NSX (original. The new one is a Supercar).
So, long story short, what makes a Sports Car a Sports Car? The ability to drive fast, handle well and look good. So, All Supercars are also Sports Cars, but not all Sports Cars are Super Cars. In addition, it is entirely possible to transform a lowly family car into a Sports car or even, with enough time and money, Supercar. Despite what the rest of the internet says. Like I said....this is opinion.
-Phil